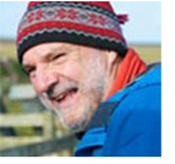 Welcome to the winter issue of Scottish Walks.
Don't make the season an excuse for staying indoors.
MANY of us have two different responses to the short and often gloomy days of winter. We can shove another log on the fire, grab a good book and curl up on the sofa, or we can wrap out, get outside and make the most of it.

I have to admit there are occasions when the first option is certainly the most attractive, an option that I often enjoy when it's raining hard. But there is a delicious 'feelgood' sensation when you put on your outdoor clothing and go for it. It never feels so bad once you are out there.

Two days ago it was a dour and dark wintry day. Almost every fibre of my being wanted to sit in front of the fire but as I looked out of my kitchen window, to check for the umpteenth time if it had started raining (I was looking for a good excuse), a flock of tiny long-tailed tits sailed down from the tree to the bird feeder. Watching these tiny, delicate birds gave me all the inspiration I needed. Within minutes I had my gear on, locked the door, and set off for a six-mile walk.

We all have our favourite local walking routes, perhaps through city streets or in local parks, or through a particular bit of woodland, but in this winter issue of Scottish Walks we've come up with a few route suggestions that might take you further afield.

Roger Smith describes a terrific outing along the Kelvin Walkway in Glasgow and then travels north and east for a circumnavigation of Loch Leven in Perth and Kinross.

Down in the Borders Erica Niven suggests a stroll alongside the Jed Water and I've been in the hills as usual - on Carn Eilrig, a lovely wee hill in the Cairngorms and in Coigach in Wester Ross. But I also found myself creating a lovely circular walk near my home in Badenoch, a route that is based on a local legend called the Curse of Cluny. It was immensely satisfying to create a walk out of some local history.

Wherever you live, and whatever your interests are, winter can be brought to life by getting outside, having a walk, and seeing what's around you. I know the winter season can seem long and dour but you don't have to simply endure it.

You can make the most of it, by getting outside for a walk. And there's one thing I can guarantee - the mince pies taste even better when you get back to that roaring fire!

Happy walking,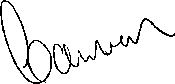 ---

Scottish Walks Digital Subscription
If you would like to be added to our marketing list
and receive a free digital subscription to Scottish Walks,
you can register your details by clicking HERE.


---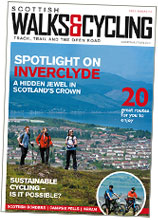 Prefer a Print Subscription?
Scottish Walks is available in 3000 independent retailers throughout Scotland, priced at £1.50.

Alternatively you can receive a postal subscription, also priced at £1.50 per issue by calling 0141 302 7744.
That's just £6 for the 4 issues!